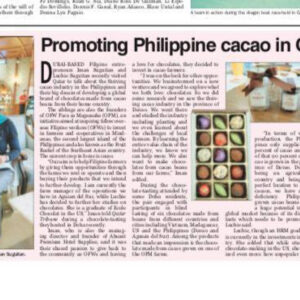 Dubai-based Filipino entrepreneurs Iman Suguitan and Luchie Suguitan recently visited Qatar to talk about the thriving cacao industry in the Philippines and their big dream of developing a global brand of chocolates made from cacao beans from their home country.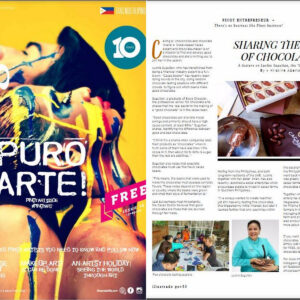 Calling all chocoholics and chocolate lovers! A dubai-based Cacao expert and chocolate-maker is on a mission to find and develop good chocolates and she's inviting you to join her in the search.
We are Overseas Filipino Workers (OFW), the modern heroes of the Philippines, spread in various parts of the globe and we are investing in cacao farms in the second largest island of our country – beautiful Mindanao. Duly registered with the Philippine SEC, our goal is to partner with Philippine farmers, fisherfolk and nature conservationists. Email ofwparsamagsasaka@gmail.com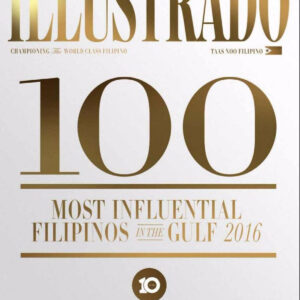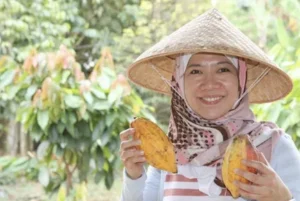 MANILA, Philippines – Chocolates are among the most common gifts to express romantic love. But a group of Filipino expats from Dubai is using chocolates to express a different kind of affection: their love for the Philippines.​OFW para sa Magsasaka (OPM) has launched a project that encourages overseas Filipino workers (OFWs) to invest in agriculture and partner with cacao farmers of Agusan del Sur in Mindanao. The project is simple: OFWs are urged to invest through OPM, which will manage the investments to fund the farmers' fertilizers, pesticides, insecticides, fungicides, foliar equipment, seedlings, and infrastructure. OPM also conducts training programs for the farmers to make sure that their cacao beans can be sold at the best price possible. The income of the farm will be shared equitably by the farmers and their OFW partners.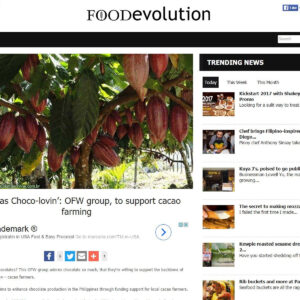 Who doesn't like chocolates? This OFW group adores chocolate so much, that they're willing to support the backbone of chocolate production – cacao farmers. A group of OFWs aims to enhance chocolate production in the Philippines through funding support for local cacao farmers. OFW para sa Magsasaka (OPM) has recently launched a project that asks OFWs to put in and invest in agricultural projects and work with cacao farmers of Agusan del Sur in Mindanao, Rappler reported. The project is pretty straight forward. OFWs are encourages to invest through OPM, which will handle and manage the investments of the farmers' equipment, fertilizers, insecticides, pesticides, fungicides, foliar equipment, seedlings, and even infrastructure for farming.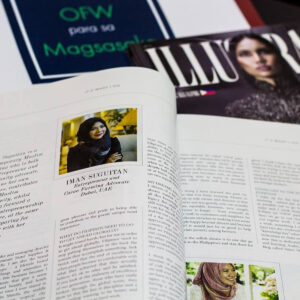 Iman Suguitan is a contemporary Muslim Filipina who is both an entrepreneur and community advocate. She runs her own business, contributes to the Muslim community, whilst pushing forward a social entrepreneurship initiative, at the same time preparing for a family with her husband.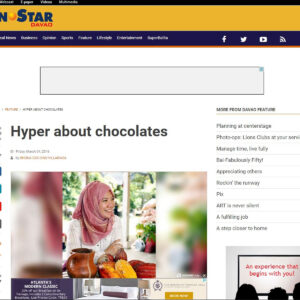 A CERTIFIED chocolate-lover, Iman Mary Rose Suguitan or Iman Suguitan dreams of creating an international chocolate brand. A plan she wants to pursue with her sister Luchie and their 67-year old mother. "My sister Luchie enrolled in EcoleChocolat and studies after work. We were benchmarking different high-end confiserie in Dubai like Godiva, Sprungli, Eric Kayser, Vivel Patisserie, Patchi, to name a few because our plan was to create an international chocolate brand," Iman said. Born on December 30, 1977 in Makati, Iman is finding ways on how to fully equip herself on the industry. While searching the internet on where to get a high-grade cacao, she came across to Cacao Industry Development Authority in Mindanao or Cidami.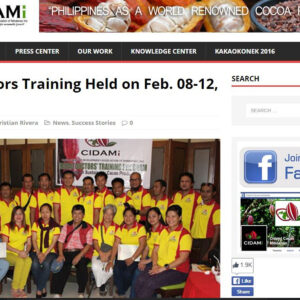 Another three, hailing from Dubai -two (2) sisters and their mother, said that the training they undertook would be of great help to their cacao business. These two ladies, Iman and Luchie Suguitan are products of CIDAMI's Cacao Doctor program who flew all the way from Dubai to Davao City to attend the five (5)-day cacao doctors' training. They organized the OFW para sa Magsasaka in Dubai and launched the program "Invest in Cacao Farming in the Philippines".